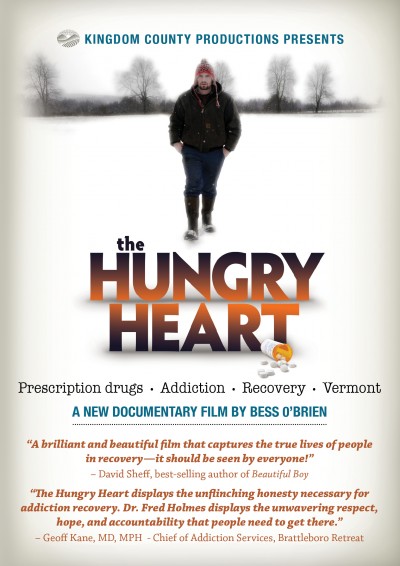 The Hungry Heart
"A brilliant and beautiful film that captures the true lives of people in recovery—it should be seen by everyone."

—David Sheff, best-selling author of Beautiful Boy
AWARDS
2016 PRISM award by the Entertainment Industry Council in Los Angeles.
2016 National Institute on Drug Abuse Media Award.
2015 Media Award from the American Society of Addiction Medicine.
VISIT THE HUNGRY HEART MOVIE WEBSITE FOR MORE INFORMATION.
If you are interested in BOOKING the film in your community or for your organization please contact Bess O'Brien at 802-357-4616 or click HERE.
FILM SYNOPSIS
A Film by Bess O'Brien
THE HUNGRY HEART provides an intimate look at the often hidden world of prescription drug addiction through the world of Vermont Pediatrician Dr. Fred Holmes who works with patients struggling with this disease.
The film explores the struggles and challenges faced by Dr. Holmes and the simple and profound connection he forges with each of his patients. The Hungry Heart shines a light on the healing power of conversation and the need for connection that many of these young addicts yearn for in their lives. Interviews with older addicts discussing their recovery process are juxtaposed against Fred's younger patients. The road to recovery is paved with success stories and strewn with relapses, and downfalls. The Hungry Heart profiles the many faces and diverse populations of those struggling with addiction, and their continued search for a life of recovery.
DVD PRICES
PUBLIC/COMMUNITY SCREENINGS
For communities, towns, cities, institutions, private libraries, and state agencies that want to show the film to a public audience. Any time you are showing this film outside the confines of your institution you must buy the rights to a community screening. The director and members from the movie are also available to travel to your town and be part of a Q and A after the screening. To inquire and book a screening Click HERE.
$25—PRIVATE/PERSONAL USE
For private screenings (in your living room). No public screening rights are given with purchase of personal use DVD. This price is not for organizations/schools or institutions.
$65—PUBLIC LIBRARY USE
For public libraries only. Private colleges and universities must buy the educational package.
$150—EDUCATIONAL/TRAINING PACKAGE
For schools, organizations, universities, hospitals, private libraries, state agencies, and other institutions. For training and educational purposes. This price lets you screen the movie within the institution that you are a part of to students, faculty, health care workers, educators, etc. No public or community screenings permitted with the educational package. Package Includes:
—DVD of The Hungry Heart
—Extensive Study Guide features discussions of important themes explored in the film, including: "filling the hole with drugs", stigma, recovery, patient/doctor relationships, listening skills, ways to treat people in recovery, pros and cons of Suboxone, relapse, and the disease of addiction. Exercises and writing prompts provided to start conversations about the film. Action steps included for moving forward toward recovery.
—Special DVD Features include addiction specialists talking about prescription drugs and recovery, best-selling author David Sheff of Beautiful Boy speaking about his son's struggle with addiction, and more conversations with parents about their children's struggle with opiate addiction.
VISIT THE THE HUNGRY HEART MOVIE WEBSITE FOR TRAILER AND LOTS MORE!